What you eat takes on a whole new meaning when you have kidney disease. This section will help you understand what to eat and what to avoid or minimize as you plan your meals. You can explore creative ways to limit your fluid intake and have fun trying new recipes.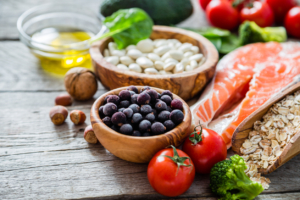 A healthy diet of nourishing food is essential for everyone, but it is very important if you have chronic kidney disease (CKD) and end-stage renal disease (ESRD). Healthy kidneys help regulate the amount of water, minerals and electrolytes in the body. Your kidneys also work around the clock 24/7, 365 days a year. Those with diminished function need to adjust their diet to maintain the delicate balance. If you are on dialysis your diet needs to change even further, because the dialysis machine can't replace the constant work your kidneys do.
What you eat may help you manage your CKD and potentially prevent or slow down the disease from progressing faster. Some research has shown that diets low in protein help people with CKD delay kidney failure. However, diet may not slow down the progression of CKD to ESRD for everyone.
High blood pressure, another factor in CKD, is also affected by what we eat. The DASH (Dietary Approaches to Stop Hypertension) Diet is known to help decrease blood pressure. It focuses on eating primarily fruits, vegetables, nuts, legumes and low-fat dairy and limits sodium, sugar, and red meat. It is low in saturated and trans fats and high in calcium, potassium, magnesium, fiber, and protein. It has also been found to lower the risk of heart disease, stroke, and possibly kidney disease and other chronic illnesses. According to the Georgetown University Center for Hypertension, Kidney & Vascular Research, people who already have severe kidney disease, a creatinine level above 3 mg/dl, or who have had an abnormally high serum potassium level, should not use the DASH Diet. This is because it is high in potassium which is not appropriate for those with ESRD.
The type of treatment that you choose for ESRD also plays a part in what you can eat and the amount of fluids you can have in-between treatments. Home dialysis gives you more food and fluid options than in-center dialysis. The most basic difference is that in-center dialysis is generally done less frequently than home dialysis, either peritoneal dialysis or home hemodialysis. With either method of home dialysis, treatment occurs more frequently and there is less time for a buildup of waste products in the body. This means in general, there are fewer dietary and fluid restrictions for home dialysis patients. However, the dialysate solution used in PD is sugar based and you will need to change your diet to deal with the extra sugar.
Watch Your Intake
All dialysis patients need to watch their intake of phosphorus (fos-fer-uhs), calcium (kal-see-um), potassium (poe-tass-ee-um), carbohydrates (kar-bo-hi-drates), sodium (so-dee-um) and fluids for the following reasons:
Phosphorus is an essential mineral that plays a major role in bone development. Dialysis patients, especially those on hemodialysis, need to limit the amount of phosphorus they eat. Too much and it disrupts the body's balance between phosphorus and calcium. This can lead to hardening of soft tissues and removes calcium from the bones making them weak.

Calcium is the most abundant mineral in the body and is needed for proper bone growth. Increased calcium is often important for dialysis patients to offset the additional phosphorus in their body.

Potassium is a mineral that is important for nerve and muscle function. Too much potassium may lead to muscle failure and in rare cases heart failure.  Dialysis can only remove a fixed portion of potassium so it is important to limit foods that are high in the mineral. If you are a PD patient, you don't have to limit potassium as much as other forms of dialysis.

Carbohydrates are in a class of nutrients that includes sugars and starches that provide a major source of energy in the body. Carbohydrates are important for all diets, but especially important for hemodialysis (HD) patients as they become a major portion of your diet. Peritoneal dialysis patients need to eat fewer carbohydrates because the dialysate solution is largely made of sugar.

Protein is important to staying healthy. However, as a chronic kidney disease patient you may need to limit your protein intake. Unhealthy kidneys lose the ability to remove protein waste, and your protein intake will be determined based on your kidney function, nutrition status and body size.

Fluid limitation is important once your kidneys stop functioning. While dialysis treatments will eliminate excess fluid, it is not as effective as your 24-hour kidney function. Going over on your recommended fluid allowance can cause swelling and build up in your lungs.

Sodium is one of the body's three major electrolytes. Sodium is essential for the body to regulate blood pressure, transmit impulses for nerve function and regulate the acid-base balance of the blood; without healthy kidneys you are unable to eliminate excess sodium which can increase blood pressure.
Managing Your Nutrition
Below you'll find more information about how to manage elements of your nutrition.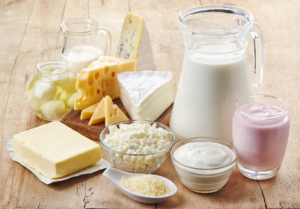 Calcium is an important element in a kidney friendly diet.  Healthy kidneys help balance the amount of calcium and phosphorous in the body to promote bone growth and maintenance.  Too much calcium can lead to harmful hardening of vessels and too little leads to weak bones. In many dialysis patients, phosphorus levels will be higher and additional calcium might be needed to restore the balance. Calcium is found in most dairy products, but these also normally contain high levels of phosphorus. Calcium supplements are an option and sometimes calcium-based phosphate binders are prescribed to increase calcium and lower phosphorus levels. If calcium levels are too high there are also options. Calcimimetics can be prescribed that mimic the action of calcium and lower the amount of calcium in your body.
Foods High in Calcium
Your dietitian will be able to point out foods that are high in calcium. Many of the items on this list contain high levels of phosphorus and thus may need to be limited.
Dairy such as Milk, Cheeses, Yogurt and ice cream

Spinach

Broccoli

Rhubarb

Tofu

Oranges

Flax seeds

Quinoa

Nuts
Foods with Added Calcium
Many common foods have added calcium (calcium fortification or enrichment) including:
Breakfast cereals and bars

Breads

Juices

Margarines

Sports drinks

Pancake or biscuit batter

Crackers

Soy or rice milk
Foods with Calcium and Low Phosphorus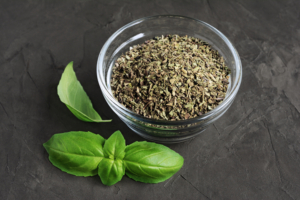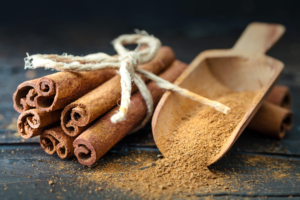 A few foods contain calcium and low phosphorus:
Two teaspoons of cinnamon have 50mg of calcium and no phosphorus

Two teaspoons of basil have 63mg of calcium and only 15mg of phosphorus
The Need to Limit Fluids
Kidneys help manage the amount of fluid in your body. When your kidneys fail, the amount of fluid can build up and cause serious complications to your heart and lungs.   If you are on dialysis, the amount of fluids you consume between treatments is important to maintaining a healthy balance and preventing health complications.
Why Should I Care About Restricting My Fluids?
Too much fluid gain between treatments can lead to:
Cardiac arrest

Heart disease
Vein damage
Blood pressure-related issues
Swelling
Fluid build-up in the lungs
Cramping during treatment
Your fluid restriction is determined by several factors including urine output and fluid input between treatments, which may result in weight gain between treatments.  Fluid control is important for hemodialysis patients because treatments for in-center patients are only done three times a week, compared to daily peritoneal dialysis or short, daily home hemodialysis which can be done five to seven days a week which removes the fluid more frequently.
Your Dry Weight
Your dry weight is the amount of body weight minus the extra fluid that is stored in your body. It is similar to the weight after urination, in a person with fully functioning kidneys. As a dialysis patient, your dry weight is the amount that you weigh shortly after treatment. Using your weight change between treatments can help determine what your restriction will be.
Tips to Control Fluid
Your medical team will help you determine what your fluid restriction will be. Your dietitian can be helpful with tips to avoid taking in too much fluid between treatments as well as learning how to monitor your fluid intake. However, it is up to you to manage your daily intake. Keeping a journal will help you track the amount of fluid you drink and the amount of fluid in your food.  
Minimize the amount of your sodium intake. As discussed

here

, sodium causes you to retain fluid and can make you feel thirstier.

Evenly distributing your fluid throughout the day helps keep you from having dry mouth.

Gum and tart items such as lemon juice can stimulate your salivary glands to wet your mouth.

Small cups can help you portion out your liquid better.

Although ice is really water, and counts as a liquid, it can help satisfy your thirst without adding a lot of fluid. A medium ice cube has approximately one ounce of water.

An alternative to drinking water with medication is to take meds with food like applesauce which cuts down on more fluid intake.

Items to watch more carefully are those that are liquid at room temperature (things that melt) and high water fruits and vegetables.

Understand that almost everything you eat has some water content and contains "hidden fluid".
Hidden Fluid
When most people think about fluid, they only think about liquids like water or juice. Drinks do have the most fluid content, but items such as yogurt, Jell-O and many fruits and vegetables have large hidden water content. Even items such as meat and bread have some moisture.
Although it is important to understand almost all items contain water, this information should just be another tool in your diet. You shouldn't avoid corn because it has two ounces of water per ear, but should just understand that if you ate a several ears, you are adding fluid to your diet.  Items to watch more carefully are those that are liquid at room temperature (things that melt) and high water fruits and vegetables.
Watching for hidden fluid can help you keep your weight gained between sessions down and make the process more enjoyable. If you need to take off less fluid during dialysis, you can have quicker treatments or have the filtration rate at a more comfortable level.
Ice cubes can be a great low fluid way to get rid of dry mouth, but remembers that ice is another common item that doesn't get counted as fluid. A medium ice cube has approximately one ounce of water.
The following is a chart of some commonly eaten foods and their water content:
| Food | Amount of Fluid in Ounces |
| --- | --- |
| Raisins (1 cup) | 1 |
| 1 Medium Ice Cube | 1 |
| 5 Prunes | 1 |
| 1 Ear of Corn | 2 |
| Lettuce (1 cup) | 2 |
| Meats and Poultry | 2 |
| Raw Broccoli (1 cup) | 3 |
| 1 Medium Peach | 3 |
| Cranberries (1 cup) | 3 |
| 1 Bell Pepper | 4 |
| Ice Cream (1 cup) | 4 |
| 1 Medium Apple | 4 |
| Strawberries (1 cup) | 5 |
| Boiled Peas (1 cup) | 5 |
| 1 Pear | 5 |
| Carrots (2 cups) | 6 |
| Boiled Cauliflower (1 cup_ | 6 |
| 1 Mango | 6 |
| Yogurt (1 cup) | 7 |
| Fruit Cocktail (1 cup) | 7 |
| Winter Squash (1 cup) | 7 |
| Jell-O (1 cup) | 8 |
| Applesauce (1 cup) | 8 |
| 1 Papaya | 9 |
| 1 Wedge Watermelon | 9 |
| 1 Medium Cucumber | 10 |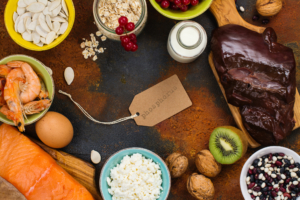 Phosphorus is commonly found in foods such as dairy, organ meats, fish, poultry, eggs, whole grain products, nuts, and is unusually high in processed foods. Healthy kidneys help your body keep a balance of phosphorus and other minerals you need by filtering out what you don't need.
When kidneys aren't working well, phosphorus can build up, causing a condition known as hyperphosphatemia (hi-per-foss-fuh-TEE-mee-uh). If not treated, it can lead to serious health problems. Your phosphorus level should be within the range of 3.5-5.5 mg/dL. Check with your dietitian or doctor if you don't know your phosphorus level. A simple blood test will let you know what your levels are.
High Phosphorus Foods and Alternatives
The chart below from the National Kidney Foundation (NKF) shows basic ways to substitute high phosphorus foods for low alternatives.
Instead of High Phosphorous Foods
Try Low Phosphorous Foods
Food
Phosphorous (mg)
Food
Phosphorous (mg)
8 oz milk
230
8 oz nondairy creamer OR 4 oz milk
100, 115
8 oz cream soup made with milk
275
8 oz cream soup made with water
90
1 oz hard cheese
275
1 oz cream cheese
30
1/2 cup ice cream
80
1/2 cup sherbet OR 1 popsicle
0
12 oz can cola
50
12 oz can of ginger ale OR lemon soda
3
1/2 cup lima or pinto beans
100
1/2 cup mixed vegetables OR green beans
35
1/2 cup custard OR pudding made with milk
150
1/2 cup custard OR pudding made with nondairy creamer
50
2 oz peanuts
200
1 1/2 cup light salt low-fat popcorn
Looking for Hidden Phosphorus
Certain buzz words such as "enhanced meat" found mainly in poultry products may contain hidden phosphorus. Another good rule of thumb is to avoid items that have additional fluid such as a brine added to them. In general, brown colas contain high levels of phosphorus while clear drinks tend to have less. If you have a question and can't tell by the label contents, ask your dietitian. Sometimes phosphorus is listed on labels as a more complex combination of ingredients. The following is a list of terms that means phosphorus is found in that food.
The following ingredients add phosphorus to foods and should be avoided:
Sodium polyphosphate
Sodium tripolyphosphate
Phosphoric acid
Disodium phosphate
Monosodium phosphate
Potassium tripolyphosphate
Sodium acid pyrophosphate
Sodium hexametaphosphate
Tetrasodium pyrophosphate
Trisodium triphosphate
The Effects of Too Much Phosphorus
Symptoms of hyperphosphatemia may include cramps, numbness or tingling, itchy skin, bone pain, or joint pain. However, you may not experience any symptoms at all. It's important that you work with your Renal Dietitian and monitor your blood levels regularly through your monthly labs.
If high phosphorus levels are not treated, they can lead to:
Sore, weak, and brittle bones
Painful calcification (mineral buildup in your vessels and valves causing heart damage and failure.
Calcium buildup in your vessels and valves causing heart damage and failure.
Dialysis alone can't get rid of the extra phosphorus. That's why dietitians encourage patients to reduce the amount of phosphorus in their meals and sometimes medication like phosphate binders are prescribed to help the body eliminate excess phosphorus.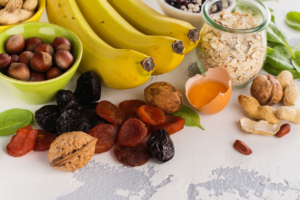 Potassium is also important in your diet because potassium levels control nerve and muscle functions. Since healthy kidneys remove excess potassium, most pre-dialysis and dialysis patients have too much potassium in their diet. Potassium intake is less of an issue for PD patients and for hemodialysis patients who do dialysis more than three times weekly, due to the more constant cycling of fluid.
Hyperkalemia or high levels of potassium in the body is associated with a significant increase in an irregular heartbeat and sudden death.
It is difficult to limit potassium in your diet, since most foods have at least some in them.
A few helpful steps to keep you lower your potassium intake includes:
Watching portion sizes of fruits and vegetables

Rinsing canned fruits and vegetables

Replacing dairy products with non-dairy substitutes

Avoiding salt substitutes

Leaching (a soaking process before cooking) your vegetables

Tracking your potassium levels and share any drastic changes with your dietitian
Category
Eat This
Not That
Fruits
Apple
Bananas
Plum
Oranges
Berry
Raisins
Vegetables
Zucchini
Acorn/Butternut Squash
Bell Pepper
Tomato
Green Bean
Spinach
Dairy
Nondairy Creamer
Milk
Sherbet/Popsicle
Ice Cream
Cream Cheese
Cheese
Snacks
Pretzels
Nuts or Seeds
Lemon Flavored Desserts
Chocolate Flavored Desserts
Sugar Cookies
Molasses Cookies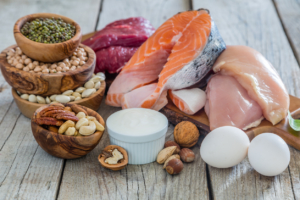 Studies have shown that a low-protein diet (hypoproteic) can help postpone dialysis.
Protein is important in your diet because it helps keep the body nourished and healthy to fight off potential infections, repair tissue and for growth. Quality sources of protein include lean red meat, chicken, turkey, fish, lean pork, dairy and egg products. To keep a healthy diet overall it is best to select trimmed cuts of meat or low-fat dairy. Nuts and beans are also a good source of protein, but they also contain phosphorus.
The chart below was derived from data in the United States Department of Agriculture (USDA) National Nutrient Database for Standard Reference, Release 20.
Type of Protein Source
Amount of Protein in Grams
Poultry
Chicken Breast (1/2 piece)
26
Turkey (3oz)
24
Ground Turkey (1 patty)
22
Beef
Top Round (3oz)
31
Veal (3oz)
30
Ground Beef
22
Pork
Pork Chop (3oz)
25
Pork Shoulder (3oz)
27
Ham
18
Seafood
Lobster (3oz)
17
Crab (3oz)
16
Shrimp (6 large)
10
Fish
Fresh Tuna (3oz)
25
Canned Tuna (3oz)
21
Salmon
23
Eggs
Egg substitute (1/4 cup)
7
Egg Cooked (1 egg)
6
Egg White (1 egg)
3
Beans and Nuts
Kidney Beans (1 cup)
15
Lima beans (1 cup)
15
Mixed nuts (3oz)
15
Sodium is one your body's major electrolytes that helps control the fluid content of your tissues and cells. Most people know sodium as salt, but salt is a compound made up of sodium and chloride. Healthy kidneys remove excess sodium from the body. Too much sodium is an issue because fluid will build up leading to higher blood pressure and potentially heart failure. Sodium will also make you feel thirstier and make it more difficult to keep within your recommended fluid restrictions.  Home hemodialysis and PD patients don't need to watch their sodium intake as closely as in-center hemodialysis patients, but they still need to limit their sodium intake for their overall health. Many foods that you eat have sodium, and of course some are better for you than others.
High levels of sodium can lead to:
Swelling (edema) throughout your body

High blood pressure (hypertension)

Heart failure

Shortness of breath
Low sodium choices include:
Fresh fruits and vegetables

Unsalted popcorn

Breads

Pastas

Unprocessed meats
High sodium choices to avoid include:
Processed meats such as ham and luncheon meats

Chips

Salty snack foods

Canned soups and vegetables

Tomato juice

Sports drinks

Many fast or convenience foods
To help you manage your sodium intake:
Keep a food journal to track your dietary sodium

Record your weight daily to track swelling

Limit processed foods

Choose low sodium alternatives and don't add additional salt to meals

Read food labels and look for hidden sodium in items like drinks or in canned goods

Use natural flavor enhancers like spices and herbs as a substitute for salt