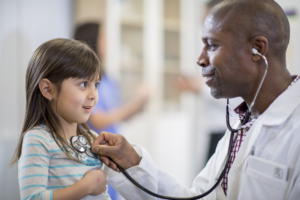 You may think kidney disease and kidney failure is limited to adults. However, children can also be affected by kidney disease. Unlike kidney disease in adults, children are often diagnosed as a result of genetic disorders or other conditions present since birth. Pediatric kidney disease is a term used to describe any type of kidney disease that develops in children under the age of 19.

Kidneys in children, as well as in adults, are important because they remove the extra fluids and waste from the body and help regulate blood pressure, ensure chemical balance and maintain the health of the bones.

The rates of Chronic Kidney Disease (CKD) are substantially lower in children than adults, but the incidence of CKD is increasing steadily with poor and ethnic minority children disproportionately affected.

African Americans in their late teens are three times more likely than Caucasians in the same age group to develop kidney failure. Diseases that damage the tiny blood vessels in the kidney are also more common in minority children. Moreover, boys are nearly twice as likely as girls to develop kidney failure from birth defects, polycystic kidney disease, or other hereditary diseases. These issues could be related to genetic susceptibility, but other factors may include socioeconomic differences and limited access to medical care.

Booklets for Teens
These booklets provide information for teens who learn they have kidney disease. They provide a brief overview of living with End stage renal disease, the importance of diet and medication adherence, and potential treatment methods. They also touch on feelings related to having a chronic illness, family and friends, and being a teen.
Teen Booklet Order Form
The DPC Education Center can send you 1-5 copies of each booklet below at no charge. Additional copies are $2.00 for each booklet which includes shipping. Please note that shipping may take at least 4-6 weeks due to the Coronavirus Pandemic. Only English versions of the booklet are available for print.