Kidney Disease and the Family
All parents desire for their children to be happy and healthy. So, finding out that your child has kidney disease can leave you and your child feeling sad, confused and scared. This free course, developed in partnership with the American Psychological Association, will help you learn more about how your child's mental health may be impacted by this diagnosis and what parents can do to help them cope. It will also offer tips for siblings and parents.
In this course, you will learn:
How living with a chronic physical illness can affect your child's mental and emotional health at different ages.
How caring for a child with kidney disease can affect you, your spouse and other children in the family.
How mental health services can offer additional support.
Click the image below to begin this course. Further instructions are below if you need help getting started.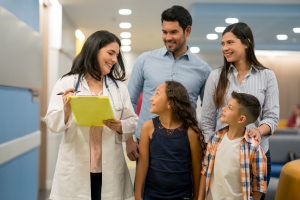 Getting Started
Click " Get Started " under the "Sign In" button, and create your account!
Click the " +Add " text next to the "Courses" header.
Click on the Kidney Disease and the Family program and select " Get For Free ."
Click " Open " and begin your free program!