View the recording down below.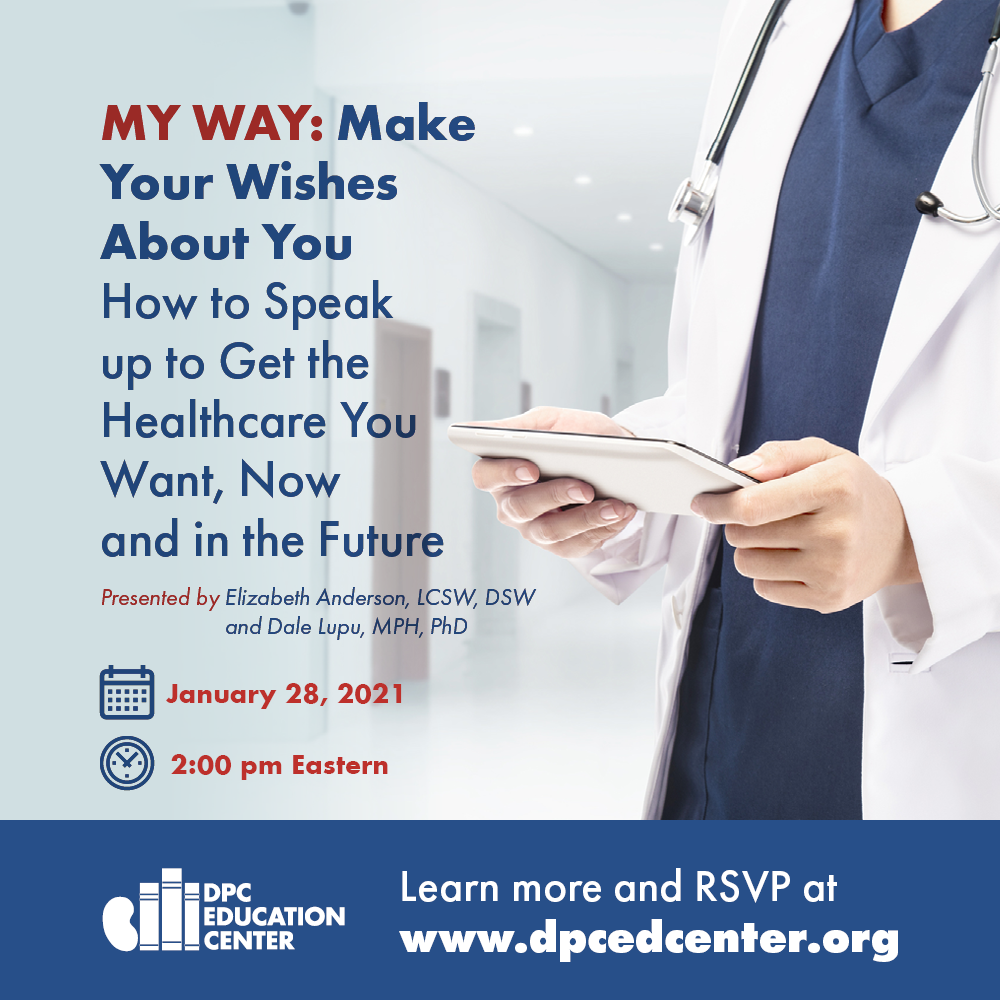 MY WAY: Make Your Wishes About You – How to Speak up to Get the Healthcare You Want, Now and in the Future
January 28, 2021 @ 2:00 pm

-

3:00 pm

EST
Presented by: Elizabeth Anderson, LCSW, DSW and Dale Lupu, MPH, PhD
During this webinar you will learn:
What is advance care planning and what are its benefits? (Hint: Gives you more control over your health care in the future, if you can't speak for yourself. Eases conflict and guilt for family if they need to make decisions on your behalf.)
What is shared-decision making and why is it important? (Hint: Helps you get the health care that best fits YOU. Helps you to be engaged and and have more control over your care.)
What are common barriers to advance care planning?
What are common barriers to shared decision making?
Suggestions for leaping over those barriers, tunneling under, or going around so you can be more in control of your care – and do it YOUR way.
View the Recording:
Complete the Presentation Evaluation:
Create your own user feedback survey
About the Presenters:
Elizabeth Anderson, LCSW, DSW, is an Assistant Professor of Social Work at Western Carolina University. Dr. Anderson received her BSW from James Madison University, MSW from Virginia Commonwealth University and DSW from University of Tennessee. She practiced as a hospice and palliative care social worker, bereavement coordinator and Social Services Director for Mid-Atlantic Renal Coalition. Dr. Anderson is a 2018 Sojourn Scholar Award recipient through the Cambia Foundation, one of the first of two social workers to receive this award. Her Sojourns research project is exploring best practices to engage family members of patients with kidney disease in rural communities. Dr. Anderson's research area has been in the area of supportive care and nephrology. She has worked on the My Way research team, a multi -site randomized control trial for advance care planning for patients with kidney disease (MY WAY). She has been responsible for creating the patient education material and the curriculum guide for practitioners with a focus on Transtheoretical Stages of Change Model and Motivational Interviewing, as well as training and consulting with site coaches. Dr. Anderson is passionate about how to empower healthcare teams to provide the best patient centered care and supportive care by infusing social work skills with a focus on empathy and evidenced based communication skills training.
Dale Lupu, MPH, PhD, Co-Principal Investigator, is an Associate Research Professor at George Washington University where her current research is in integrating palliative care into nephrology care, as well as general workforce trends in the field of hospice and palliative medicine. Her four decades of experience building the field of hospice and palliative care has been motivated by the conviction that "the end of the story matters." Formerly CEO of the American Board of Hospice and Palliative Medicine, she guided formation of the physician subspecialty of hospice and palliative medicine and obtained its official recognition as a subspecialty from ABMS and ACGME. Subsequently, she served as Vice President for Professional Development at the American Academy of Hospice and Palliative Medicine. Dr. Lupu has led or consulted on a number of national initiatives to build educational capacity, workforce, and quality of care in hospice and palliative care, including quality indicators and guideline measures for hospice & palliative medicine, delineation of physician competencies in hospice & palliative medicine, and a competency evaluation toolkit for fellowship programs. She served as a member of the CMS Hospice Payment System Technical Advisory Panel and currently is a member of the ACGME Milestones work group for hospice and palliative medicine. Dr. Lupu is a graduate of Harvard-Radcliffe College and the Johns Hopkins Bloomberg School of Public Health.
Share Your New Knowledge!