View the recording down below.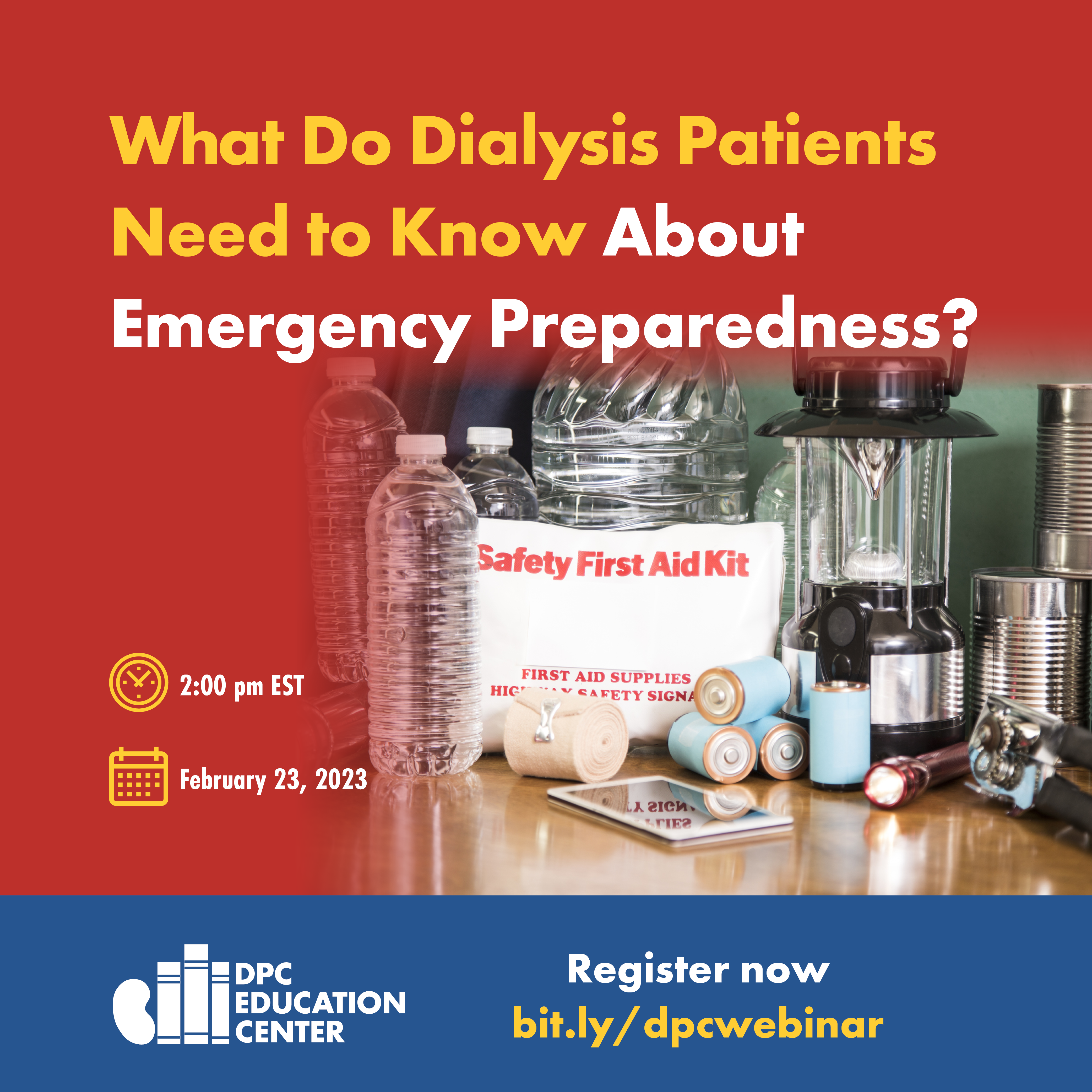 What Do Dialysis Patients Need to Know About Emergency Preparedness?
February 23 @ 2:00 pm

-

3:00 pm

EST
Presented by Danielle Daley, MBA, CPHQ; Julia Dettmann, BSW; Michelle Prager, MSW, LSW; and Nealand Lewis, PMP, PhD, PSAE, MPM, M.A.Ed., MBA, CICA
February 23, 2023
2:00 pm ET, 1:00 pm CT, 12:00 pm MT, 11:00 am PT
Emergency preparedness is essential for patients to ensure continuity of their care. It is important for people on dialysis to plan ahead for emergencies and disasters in order to stay safe. This webinar provides information that will help dialysis patients understand:
Types of emergent events
How travel can impact care
What to ask your team
What supplies may be needed
Benefits of home dialysis
Patient personal experience
Watch the Recording
Danielle Daley, MBA, CPHQ is an Executive Director in the IPRO ESRD Network Program, with over two decades of experience implementing innovative programs to ensure that patients receive appropriate, timely, and equitable care. Ms. Daley leads a team of social workers aimed at improving experience of care for individuals with renal failure. Additionally, she fosters collaborations with dialysis providers, state health departments, transportation agencies, office of emergency management, and healthcare coalitions to develop and implement emergency preparedness plans that support access to care for dialysis patients.
Julia Dettmann, BSW is the ESRD Network Program Emergency Lead and Patient Services Coordinator. Ms. Dettmann works with a team of social workers to process grievances, ensure access to care and coach facilities on working through behavioral challenges. Ms. Dettmann has a background in working with individuals with mental health and substance use.
Michelle Prager, MSW, LSW currently the project lead quality improvement lead for home modalities in the IPRO ESRD Network Program. Ms. Prager has ten years of dialysis experience with four of those years in Social Work and six as a Facility Administrator.
Nealand Lewis, PMP, PhD, PSAE, MPM, M.A.Ed., MBA, CICA experienced kidney failure in 2010 and has been both a home hemodialysis and in-center patient. Mr. Lewis is a member of the IPRO ESRD Network of the South Atlantic Medical Review Board, Patient Facility Representative Alliance, and ESRD National Coordinating Center Affinity Group serving as a subject matter expert and quality improvement champion. In addition to his work in the ESRD Community, Mr. Lewis has been guest speaker at numerous community and private events held throughout the U.S, Europe and Canada. His key areas of focus have been Project Management, Professional Development, Human Interaction, and Effective Communication Skills.
Share Your New Knowledge!