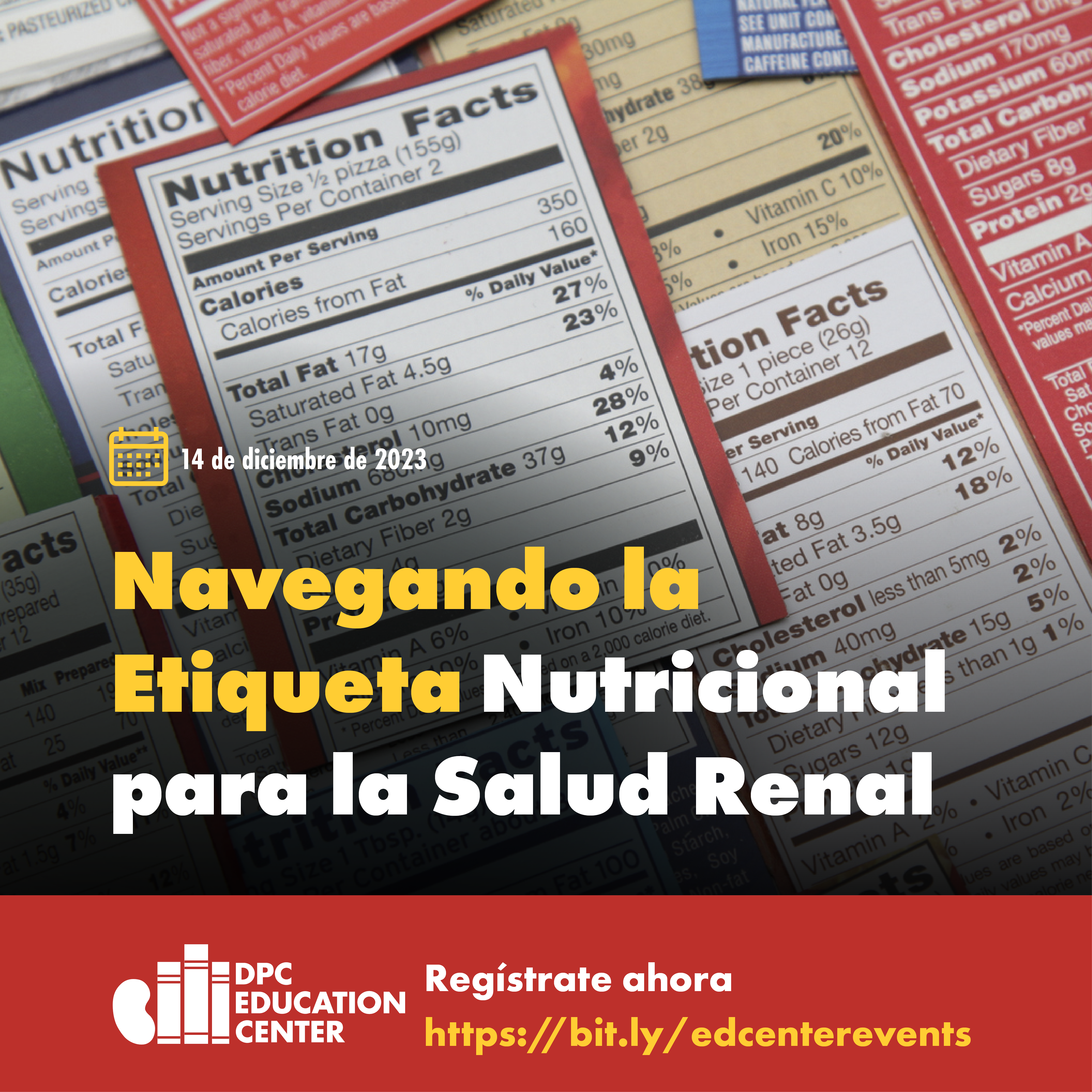 Navegando la Etiqueta Nutricional para la Salud Renal (Navigating the Nutrition Label for Kidney Health)
December 13

-

December 14
Presentado por: María Eugenia Rodríguez-León, MS, RD, CSR
14 de diciembre de 2023
Durante esta sesión informativa, aprenderá:
Aprende a leer los datos nutricionales
Mejora tu selección de alimentos según tus necesidades nutricionales específicas
Descifra los reclamos nutricionales en la etiqueta
Regístrate para notificarte cuando esté lista la sesión educativa: https://www.dpcedcenter.org/news-events/events/signup/
María Eugenia Rodríguez-León es dietista registrada y especialista certificada en nutrición renal con 14 años de experiencia en el campo renal. Vive en Puerto Rico y es dueña de una práctica privada virtual donde trabaja con Hispanos que viven con ERC para ayudarlos a retrasar la progresión de la enfermedad renal. Ha trabajado con organizaciones locales y nacionales para educar a los Hispanos sobre nutrición y salud renal.
This presentation will be available in Spanish. Slides will be provided in both Spanish and English
Presented by: María Eugenia Rodríguez-León, MS, RD, CSR
December 14, 2023
During this informational session, you will learn:
How to read the nutrition facts
Enhance your food choices according to your specific dietary needs
Decoding the nutrition claims on the label
Register to be notified when learning session is released: https://www.dpcedcenter.org/news-events/events/signup/
Maria Eugenia Rodríguez-León is a registered dietitian and board certified renal nutrition specialist with 14 years of experience in the kidney space. She lives in Puerto Rico and owns a virtual private practice where she works with Spanish-speaking adults who live with CKD to help them slow kidney disease progression. She has worked with local and national organizations to educate Hispanics about nutrition and kidney health.
Event Navigation